---
Introducing  DIALON™ G5 Infrared's Specification No.  60 102
G5 Infrared LLC introduces a new protective exterior coating for Silicon exterior windows and exposed Silicon elements that eliminates the need for a wiper.
DIALON™ is an exterior coating that is a Self-Cleaning Superhydrophobic surface that has excellent self-cleaning properties. The non-wettable surface causes water to bead up and roll off the surface, trapping and removing contaminants. Eliminating the need for a WIPER in most applications.
Increased durability in Wet Wear applications – Due to the decreased wettability, one can expect F-DLC coatings to have better performance in wet abrasion tests such as wiper blade/sand slurry.
March 28th, 2023
---
G5 is proud to announce that we have successfully moved into our new 27,000 square foot facility
Located at 12 Executive Drive, Hudson NH 03051. This move was accomplished without compromising any promised product delivery dates. The factory was up and running in three days after the initial move. This factory will accommodate our current and future growth.
September 16th, 2021
---
G5 Infrared LLC named Supplier of the Year by BAE Electronic Systems in their Partner 2 Win program.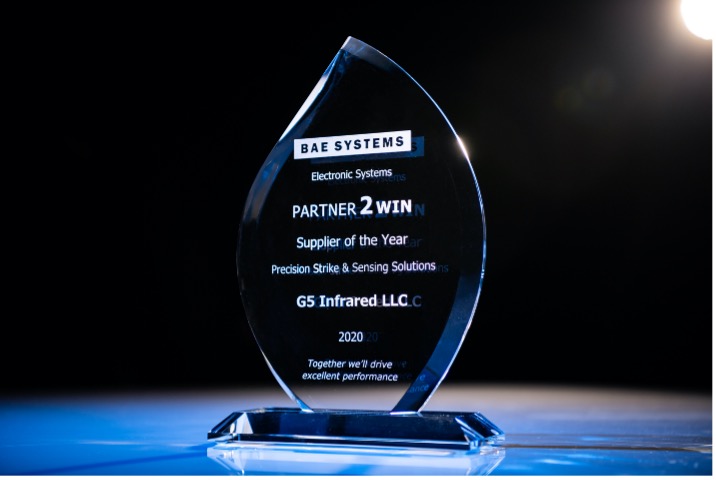 April 15th, 2021
---
G5 Infrared, LLC is planning to move into larger facilities
Due the explosive demand for our thermal camera and thin film products G5 Infrared LLC is planning to move into larger facilities. Our manufacturing and engineering segments will be combined into a new 25,000 square foot facility. This move will be completed in 4 months.
February 24th, 2021
---
G5 Infrared, LLC has become a National Partner of the Border Patrol Foundation
The Border Patrol Foundation (BPF) is pleased to announce that G5 Infrared, LLC has become a national partner of the foundation. The BPF honors the memory of U.S. Border Patrol agents and provides resources to families of the fallen and agents seriously injured in the line of duty.
"G5 Infrared, LLC is excited and proud to be a national partner of the Border Patrol Foundation," says Lou Fantozzi, CEO of G5 Infrared. "This partnership is seen by myself and my associates who have been working with agents and chiefs of the Border Patrol since 2002 as a way to thank all the men and women of the BP for their service."
"We are excited to have G5 Infrared among our national partnerships," says Ron Colburn, President of the Border Patrol Foundation. "Grateful that they've decided to support our noble cause and look forward to their participation at events."
November 13th, 2020
---
G5 infrared LLC Expands Manufacturing Facilities to Accommodate Increased Thermal Imager Production.
G5 doubles thermal imager assembly and test facility space to better serve our increased demand for G5's thermal imagers. In addition to increased space G5 has added staff to accommodate the increased assembly and testing requirements.
October 12th 2020
---
G5 Infrared LLC Moves Engineering, Sales and Marketing Staff to Offices in Nashua NH
G5 has moved its engineering staff from Hudson NH to separate offices 8 minutes away in Nashua NH. This move is to accommodate the required increased manufacturing space necessary in Hudson to meet the growing demand for its thermal imaging and thin film products.
September 2020
---
G5 Infrared Attends Border Security Expo in San Antonio Tx
G5 introduces new Surveillance Suite Platforms. Demonstrates new Long Range HD Video
March 2020
---
G5 Infrared Delivers First Integrated Surveillance Suites With EO and Thermal Camera Payloads
G5 delivers EO and Thermal Cameras on robust controllable positioners
November 2019
---
G5 Infrared Completes Facility Expansion
G5 has expanded its facility adding more than 4000 ft2 of laboratory and manufacturing space.
October 2019
---
G5 Infrared Demonstrates Long Range HD Thermal Camera with New Integrated Image Enhancement Tools
G5 Infrared successfully demonstrates Turbulence Mitigation, Super Resolution, LACE and Image Stabilization in the Arizona desert.
August 2019
---
G5 Expands Thin Film Coating Capacity
G5 Infrared installs new Thin film chambers adding to its production capability of AR and DLC coatings.
June 2019
---
G5 Infrared Unveils New Thermal Camera Products
G5 introduces Long Range Thermal Imagers in both SD and HD versions.
SD fov 12.5° to .7°
HD fov 16.6° to .9°
February 2019
---
G5 Infrared Achieves a Major Milestone
Receives AS9100 Certification
December 2014
---