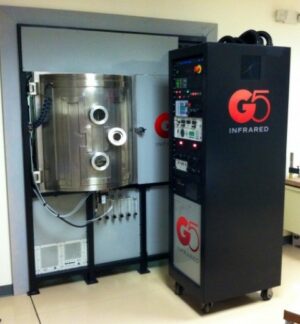 G5 offers thin film coating services for a wide variety of applications, spectral ranges, and substrate materials.

Coating Capabilities Include:
Anti-Reflection Coatings
DLC (Hard Carbon)
DIALON™ Exterior Self-Cleaning Coating
Bandpass Filter Coatings
Long/Short Pass Filters
Beam splitter Coatings
Mirror/Reflector Coatings
Metalization
Spectral Ranges Include:
Visible
Near-IR
SWIR
MWIR
LWIR
Dual-Band
Broadband
Materials Include:
Germanium (Ge)
Silicon (Si)
Zinc Selenide (ZnSe)
Zinc Sulfide (ZnS), FLIR Grade
Cleartran™ (and equivalent)
Sapphire
Fluorides (CaF2, MgF2, etc.)
Chalcogenides (AMTIR, Schott IG glasses, GASIR®)
Various Glasses
G5 has in-house thin film design capabilities to offer custom thin film coating services in addition to standard high performance abrasion resistant DLC (diamond-like-carbon) and Anti-Reflection coatings.   Customer furnished lens elements or window substrate materials are accepted for coating services or G5 can provide complete-to-print lens elements and windows or filters.