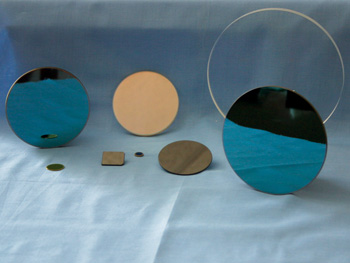 G5 specializes in providing high performance coated windows at affordable prices, including exterior enclosure windows as well as detector / dewar windows for cooled and uncooled infrared detector products.
Typical Window Substrates Include:
Germanium (Ge)
Silicon (Si)
Zinc Selenide (ZnSe)
Zinc Sulfide (ZnS), FLIR Grade
Cleartran™ (and equivalent)
Sapphire
Fluorides (CaF2, MgF2, etc.)
Enclosure Windows
Enclosure windows can be provided with a number of thin film coatings, including DLC (Diamond-Like-Carbon) for the highest durability and abrasion resistance or G5's high efficiency anti-reflection coatings to maximize the system transmission.
Enclosure windows up to 16.5 inch / 420mm diameter can be provided with DLC coatings
Enclosure windows up to 10.5 inch / 265mm diameter can be provided with anti-reflection coatings (larger diameters can be accommodated on special request)
Detector / Dewar Windows
Detector / Dewar windows can be provided with a variety of anti-reflection coatings as well as solderable metalization for sealing the detector / dewar package.